---
---
---
---
---
---
---
---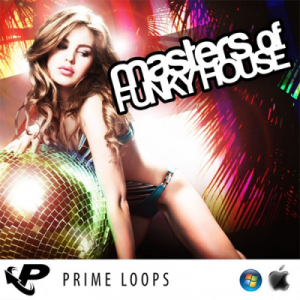 Within the rich history of House music, Funky House has always played an important role: From Masters At Work to Junior Jack, from Marshall Jefferson to Oliver $ or from Roger Sanchez to Osunlade, these organic and colourful sounds have made countless clubs on all five continents break out a sweat on the dancefloor. Now Prime Loops is dedicating a wholesome sample pack to these golden vibes: All hail the "Masters of Funky House"!
Whether you want to build your House with or without vocals, near the sparkling glitterball of 70s Disco, the neon shimmer of 80s Synth Pop or in the style of those ultra-modern vibes of Ibiza and Miami, "Masters of Funky House" is the one for you: 450+ loops, samples and one-shots, produced, refined and mastered at 24 Bit quality by Prime Loops - guaranteed to come 100% royalty free for any and all production work with whatever sound machine you're into!
This pack is a keeper if only for its absolutely smashing two varieties of Drum loop sets: Over 60 "full-on" loops give you a readily-crafted range of punching rhythm grids - and a deep crate of "No Kick" loops leave out the Kick and Bass drum sounds for you to create intros full of suspense, stunning bridges and of course your very own trademark beat and rhythm structures by adding whichever sort of drums are your fort.
Aside from the many different drum and percussion elements, things really take off: A huge folder of E-Piano Loops delivers dreamy old-fashioned piano sounds or those big-room stabs that make every serious dancer's heart run faster. The generous Funky Bass Loops section will leave fans of Acid basslines as much on their feet as those who like their subsonic frequencies suave like an old Soul song or even more down to earth.
Masterfully created licks out of Soul, Disco, Pop and orchestral recordings make up the multitude of Funky Groove Loops, String Loops, Synth Lead Loops, Vocal & Vocoder Loops and Pad & Chord Loops contained in "Masters of Funky House", giving you all the tools to tune your tracks whichever direction you like! Get creative, get down, get funky - who knows, one day you might also be ranked among the big names in Funky House!
Pack available in WAV and REX2 formats.
---
---