Harder Faster Louder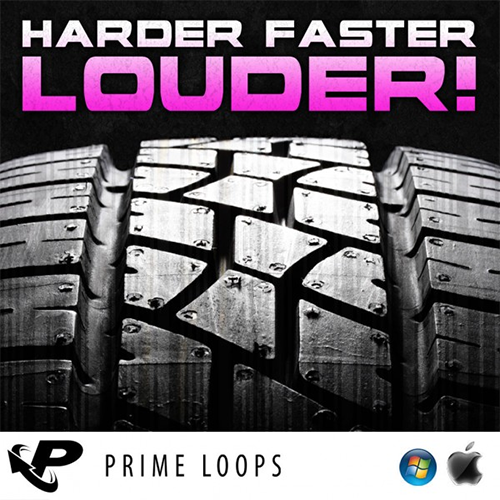 Ok! You already know that we are notorious for pushing sonic boundaries, right? Well, we've done it again! Prepare yourself for "Harder Faster Louder" - the ultimate motherload of maximal madness that goes beyond EVERYTHING you've ever heard before!
With over 600(!) high-octane samples and loops, stretching from 175 to 200bpm, "Harder Faster Louder" delivers you an insane 24-bit library of absolute devastation. Expose yourself to over 250 thumping bass loops, crazy synth hooks, metal-infused guitar riffs, uplifting rave leads, heavy-weight hardstyle drum breaks (split into folders such as "full-on", "broken" and "no-kick") and lots more!
Gathering inspiration from genre-smashing producers, as diverse as Noisia, The Prodigy, Angerfist, Atari Teenage Riot, Squarepusher, Aphex Twin and even Scooter and Basshunter this ridiculously versatile selection brings you only the heaviest and most extreme sounds currently on the market!
Whatever your style, breakcore or synth punk, hardcore or psytrance, gabba or euro dance... If you want it intense, hectic and euphoric then you'll be in ecstasy when you open this download. We've tuned every file to the max, guaranteeing your tracks hit the crowds harder than the rest.
PS: As a special add-on we have also included over 100 hard-hitting one-shots as well as a brutal selection of over 150 multi-sampler patches in EXS24, Kontakt, Halion, SFZ and NN-XT for adding unlimited combos of leads, chords and pads.
What are you waiting for? Fasten your seatbelt, push the throttle fully forward and feel the adrenaline. This full speed musical missile is now ready for impact!