Essential Dubstep Presets For Massive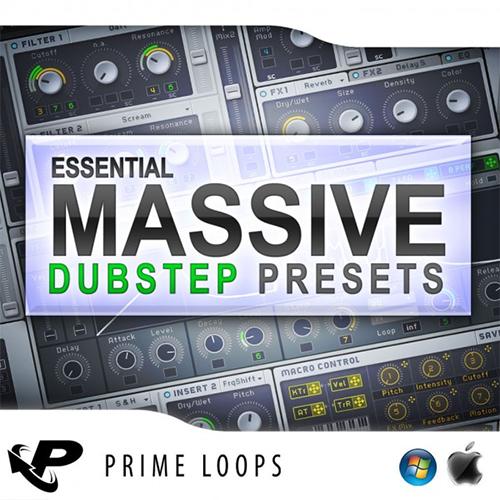 Inside this pack are synth leads, FX and basslines in the form of presets, each one of which has been precision-designed by the Prime Loops team to make full use of all the oscillators, filters and routing options available in your synth. Trust us, we leave no rock unturned and have spent hours making sure every single sound is bang up-to-date with current musical flavors, tweaking every dial and fader to bring you the very best your synth has to offer.
64 wobbling Dubstep presets for the monstrous Massive synth, including synth leads, fx, basses and rhythmic sequences, packed with all the synth power you need to add some serious spark to your tracks!
"Which synth does this pack work with?"
This pack has been made exclusively for use with Native Instruments monsterous Massive, used by superstar producers across the world to create the freshest sounds in electronic music today.
"What do I get in the pack?"
- 64 presets for Native Instruments Massive soft synth.
"Which formats are included?"
- presets are included as .nmsv files.
"What do I need to use the pack?"
You must own the latest version (1.3 onwards) of Native Instrument's Massive soft synth to use the presets in this pack.
All content included in this preset pack is available 100% royalty free, so what are you waiting for? Get tweaking!
*Please be aware that this is a preset pack for Native Instruments' Massive soft synthesizer - you must own the latest version 1.3.1 to use these presets.