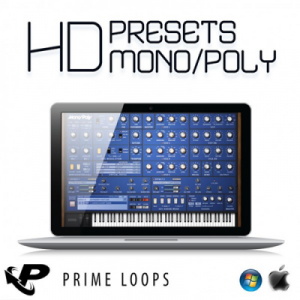 Reinvention is nothing new in the business of brining tha noize but it's usually the artist, not the equipment, that makes this bold move! We blew the dust off an old skool synth to bring you a modernized mash-up of mind-bending sounds that will take your breath away. Pushing the boundaries of vintage synth emulation, HD PRESETS FOR KORG MONO/POLY brings you an immense selection of exclusively constructed software presets for the legendary Korg Mono/Poly soft synth!
Released way back in '81, Korg's Mono/Poly was hailed for its incredible flexibility and now this bad boy is back and sounding phatter than ever. We've rebooted this old skool piece of kit, tweaked those retro dials and drawn out some fresh frequencies - throw down some seriously ripped riffs, deep electro grooves and atmospheric chords with this preset pack, proving that vintage kit can still bring super contemporary vibes to the mix!
HD PRESETS FOR KORG MONO/POLY offers you 64 tweakable patches to play with, all primed to help you get busy cutting an intense new sound! The Mono/Poly soft synthallows you to fine-tune your own unique vibe with twin effect patches, a virtual patch feature, VCO modulation and more directly adjustable on your screen – this new release from Prime Loops lets you harness each and every one of these abilities! If your creative juices need reawakening, fuel up on this updated take on an iconic synth with HD PRESETS FOR KORG MONO/POLY and let this distinctive blend of contemporary and old skool take your tunes in fresh new directions!
You must own Korg Mono/Poly software synthesizer to use this product
---