Mo' Verb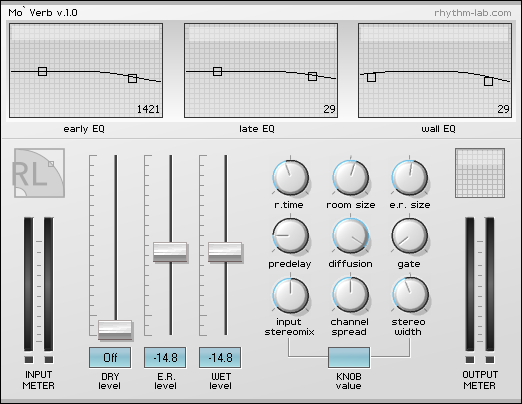 Mo' Verb is a reverberator, based on original algorithms, combining simulation of spring and digital reverbs. In our plug-in we did our best to provide basis for creating of wide spectrum of timbres, make smooth and warm sound, handy and intuitive interface for making the required sound easy and fast. While making our reverb algorithm we used specially created program for the search of inner parameters to make the sound of the reverb smooth and clear.
Main features of the Mo' Verb are:
- Optimized design for maximum smoothness of reverb sound
- Independent Early and Late reflections EQs
- Wall reflection iterative filter
- Built-in stereo imager
- Built-in gate
- Built-in goniometer
- Variable stereo spread
- Programmed with Delphi and Assembler
- 40+ presets
Authors:
Concept and sound design - Dmitry "Cyberworm" Vasilyev
Programming - Oleg Sharonov
Design - sk1e
Mo' Verb is donation ware.
You can freely download and use it. We accept donation as payment for it. You can evaluate plug-in and pay as much, as you think it costs.
Disclaimer
IN NO EVENT SHALL THE AUTHOR BE LIABLE FOR ANY SPECIAL, DIRECT, INDIRECT, OR CONSEQUENTIAL DAMAGES OR ANY DAMAGES WHATSOEVER RESULTING FROM LOSS OF USE, DATA OR PROFITS, ARISING OUT OF OR IN CONNECTION WITH THE USE OR PERFORMANCE OF THIS SOFTWARE. You expressly acknowledge and agree that the use of the "Mo' Verb" is at your sole risk.
Installation
Unzip and copy mo_verb.dll into your VST Plugin folder.
Version history:
03.05.2009
Plugin released!
05.05.2009
Some minor bug fixes.
09.05.2009
Some minor bug fixes.
27.06.2009
New 1.03 version.
Some bug fixes, more presets, SSE3 optimization.
03.09.2009
Version 1.04
Minor bug fixes, FPU, SSE2, SSE3 autodetect.

VST Plugin Technology by Steinberg.